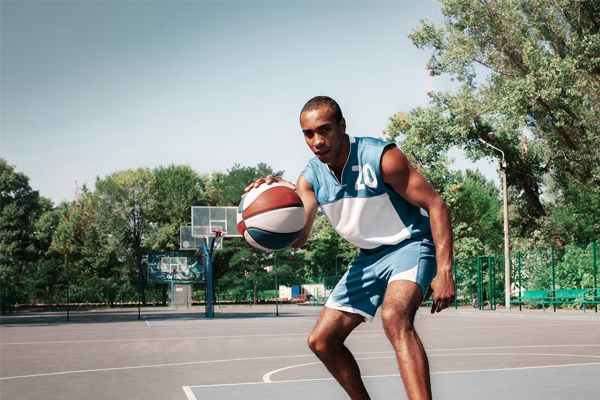 Basketball is one of America's favorite sports. People from all walks of life, young and old, love to play this game. Basketball consists of running, jumping, twisting, and turning, which unfortunately makes ankle injuries quite common. If you love basketball and have experienced an ankle injury, or you simply want to prevent one, try these tips to stop an injury before it happens.
Wear Supportive Shoes: With all the stop-and-go, and moving side to side, you need to wear good supportive shoes. Choose a shoe that is specific to basketball and fits you properly. You will want a shoe that supports your arch needs and has great shock absorption.
Exercises: Choose exercises that improve your strength, and increase your balance and flexibility. Implement single-leg exercises, calf raises and stretches. Always warm up before you play. Implement a light jog and some stretching to get your blood flowing. Warm muscles are not as prone to injury.
Taping and Bracing: Using tape or an ankle brace will provide extra stability for your ankles. Ankle injuries tend to recur, so either of these can be a great option. If you have previously injured your ankle, wear an ankle brace every time you hit the court.
Rest: Even professional athletes need rest. Listen to your body and take a day off if you are tired. Plan to have at least 2 days per week of rest and recovery. Muscles heal while they are at rest and are more prone to injury when they are overworked.
Ankle injuries can be debilitating and can keep you from the sport you love. Prevention is always key, so follow these steps to reduce the chances of you experiencing an injury.
Dr. Daniel Dean is a fellowship trained foot and ankle orthopaedic surgeon. He treats all musculoskeletal pathologies of the foot and ankle in adolescent and adult patients. He has specialized training in total ankle arthroplasty, sports injuries, flatfoot, complex fractures, and minimally invasive techniques in bunion correction.