Play is hard-wired into kids. Early on they may play imaginary games, dreaming of the winning shot in the championship game. In the future, they may find themselves actually playing in that championship game through school sports or recreational leagues in the community.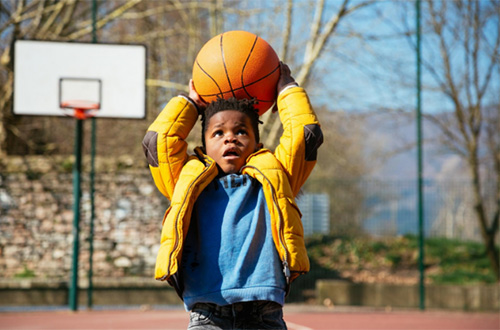 Children's bones are still in the process of growing, making them more susceptible to foot and ankle injuries than adults. Sports, regular play, or accidental falls can all result in an unfortunate injury. Five of the most common foot and ankle injuries in children and teens include:
Sprains: Ankle sprains are one of the most common injuries in play. A sprain occurs when a ligament, which connects bone to bone, is overstretched. Sprains can affect developing bones and cartilage, which can cause growth plate fractures, so it is important to monitor sprains and the healing process.
Fractures: Fractures may be caused by direct trauma from a fall or direct impact during sports. However, a stress fracture is an overuse injury that causes a tiny crack in a bone. Stress fractures are especially prevalent in active youth.
Flat Foot: Many factors can contribute to this condition in children, but usually flat feet can be an issue caused by either an accessory navicular which is an extra bone near where the posterior tibial tendon inserts or a tarsal coalition which is a failure of two bones in the foot to separate during development. These conditions can cause pain, stiffness and affect daily activities.
Achilles Tendonitis: Tendonitis is inflammation of the tendon and occurs due to overuse or stress on the tendon. Symptoms include stiffness, swelling, and a dull, achy pain at the back of the leg above the heel.
Turf Toe: Turf toe is a sprain of the main joint of the big toe and is seen frequently in football where it derives its name. It typically occurs when the toe is forcibly bent into hyperextension. Turf toe can vary in severity from a stretch to a partial tear, and even sometimes a total dislocation in the joint.
Because they are still continuing to grow, children and teens are often more susceptible to foot and ankle injuries than adults. Sports, regular play, or accidental falls can all result in injuries like fractures, sprains, or tendonitis. Being aware of common foot and ankle injuries can help keep your child or teen in the imaginary game and in the real game.
Dr. Daniel Dean is a fellowship trained foot and ankle orthopaedic surgeon. He treats all musculoskeletal pathologies of the foot and ankle in adolescent and adult patients. He has specialized training in total ankle arthroplasty, sports injuries, flatfoot, complex fractures, and minimally invasive techniques in bunion correction.
Tags:
Foot Injury
Ankle Sprain
Stress Fracture
Flat Foot
Turf Toe
Achilles Tendonitis
Daniel M. Dean, MD